Art NEWS:
.
Art exhibitons & presentations

3 Feb - 11 March 2018
Preview: Fri 2 Feb 7-11pm
Open: 11 – 6pm Fri, Sat, Sun
Group show
'At the Violet Hour'
curated by Chiara Williams Contemporary & Shaun Stamp
Nayland Rock Hotel, Margate, UK
info: http://www.chiarawilliams.com/at-the-violet-hour.html
artists: David Buckley | Emma Critchley | Simon Foxall | Dazzling Allgood | Susie Hamilton | Derek Jarman | Paul Knight | Victoria Lucas | Amanda Marchand | Jay Rechsteiner | Lindsay Segall | Shaun Stamp | Katie Surridge | Wolfgang Tillmans | Thomas Walker | Sally Waterman | Chiara Williams
I will be presenting two pieces:
Weltschmerz: Demeter mourning Persephone, inspired by Hans Arp & Evelyn de Morgan

Everything is forever now
7 - 15 April 2018
Opening party: Fri 6 April
Solo show
'The Last Day on Earth'
showing four or five works that are part of 'A series of dull & meaningless works of art'
The exhibition explores the challenges, dangers & impacts of the contineous digitalization that is radically transforming the way we live & communicate with each other.
curated by Chiara Williams Contemporary
Crate Space, Margate, UK
More information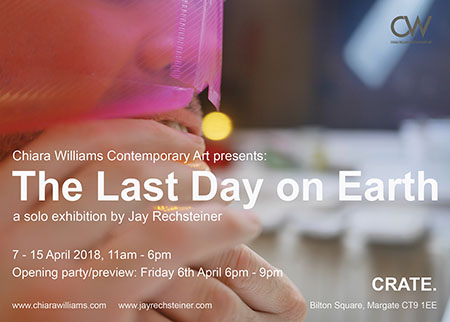 .