cable & adaptor made of fiberglass
a cable with English-to-EU adapter, developed during the Red Van residency, France & Italy, August 2015 - 2017, part of 'A series of Dull and Meaningless Works of Art'.
I have always been interested in work that challenges the structure of everyday life such as for example objects & machines that have no practical use whatsoever. With this work however the practical use is questionable as it is possible to actually connect an electrical apparatus. The cable and adapter have not been modified and can be used any time. The title howerver suggests that both the cable and the adaptor is a reproduction in fiberglass. This lie is an essential part of this work.
The cable has a UK-plug which is attached to a European adapter. It is important that the EU adapter stays attached to it even if the cable is installed in England in which case an English adapter is to be fitted onto the EU adapter. The cable is always in-situ, i.e. depending on the space the cable will either have one or two adapter and is installed on the floor or hanging down from a socket
The work refers not only to Duchamps' (bought) and found objects but also to Arte Povera and the works by British artist Martin Creed which I hold in high esteem.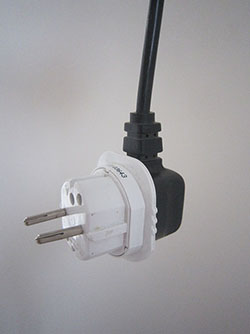 Developed during the Red Van residency, Italy, France August 2015