Forgotten People
slideshow
15 min


I am equally fascinated & haunted by memories of the past. Browsing through family albums & studying photographs opens up a gateway into what seems a much more agreeable place than the present. I guess, this has to do with the fact that one remembers the wound but not the pain. Our human memory tends to create or retain mainly the good & positive parts of the past in order for us to stay sane. I am not entirely sure.


Memories are wonderful things that consist of events that happened in the past & a dose of imagination that fill in the gaps. They help us remember where it all started & who we are. I am not so much interested in the scientific & anatomical side of the brain and the faculty of remembering but rather in the links & differences between the past and the present as well as the ripples of time.

Looking at myself, I feel there is a deep social as well as an emotional connection with events, people and the zeitgeist of approximately the last hundred years and not so much with the time before. I feel I am connected up to the time of my grandparents when they were young families. Their concerns, their way of thinking, their cultural interests have somehow prevailed to a certain degree. I grew up reading the works by Erich Kästner, Hermann Hesse and Robert Walser, all authors of a time before I was even born. Their work was part of my grandparents' and my parents' time and has infiltrated & formed my own time and myself.


In a world where events, people, landscapes, everything is constantly being captured by photographic devices, we seem to have changed our relationship with memory and the way we value the representation of specific moments, objects, events, people etc. Everything is being constantly and continuously documented. I feel that we 'consume' the world and impressions with mindless & blind greed. As I long for a more sober and more thoughtful life, I tend to spend a lot of time hanging around in junk shops (retro shops) poking around in the past of others. A while ago in one of these shops in the sea town of Margate in South-East England, I came across a couple of dusty boxes that contained hundreds of old fashioned photographic slides. This took me back to my grandparents. I remembered the sound and even the smell of the old projector. It was wonderful. When I browsed through the slides, I was most fascinated by the photographs that captured people, people at important events and stages of their lives such as weddings or family reunions, people in front of their newly acquired car etc. The way people posed and the way the photographs were framed seems quite different from nowadays, I feel. As I didn't want to buy all the slides, I selected only the slides of the described portraits of people to take home. I was very touched and also sad by my findings as these people were, are REAL people. Someone didn't know what to do with all the slides and decided to give them away, sell them to a junk shop.
more: http://jay-rechsteiner-photography.weebly.com/forgotten-people.html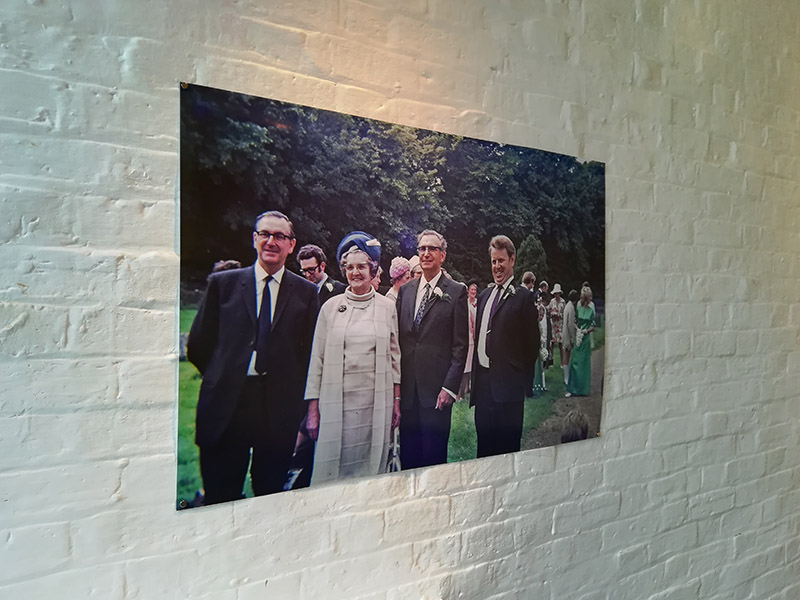 photograph, 100cm x 60cm

Crate, Margate, UK, 2017 part of 'The ships are always there.' curated by Chiara Williams Contemporary Art